Click here to view original web page at www.cbssports.com
USATSI Texas coach Shaka Smart revealed Monday that he has tested positive for COVID-19. He is isolating away from his team and his family, and assistant coach K.T. Turner will serve as the acting head coach in his absence. "I tested positive for COVID and am in isolation away […]
Click here to view original web page at www.cbssports.com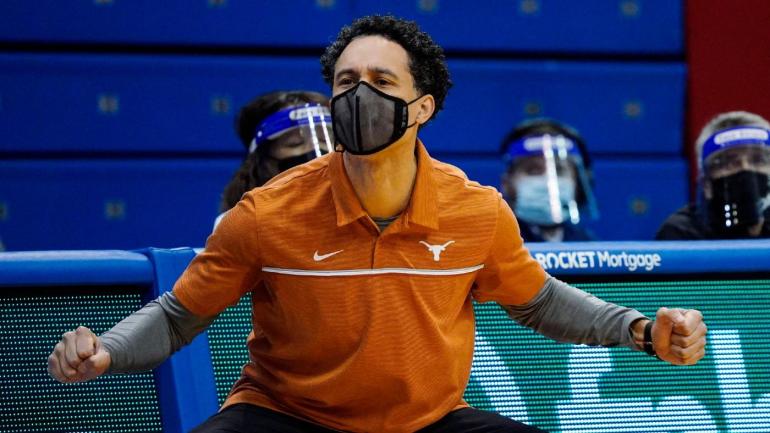 USATSI
Texas coach Shaka Smart revealed Monday that he has tested positive for COVID-19. He is isolating away from his team and his family, and assistant coach K.T. Turner will serve as the acting head coach in his absence.
"I tested positive for COVID and am in isolation away from our team and my family," he announced on Twitter. "I am working remotely and look forward to rejoining our team in person when it is safe to do so."
Smart's diagnosis comes ahead of Tuesday's rivalry game between No. 5 Texas and No. 24 Oklahoma. The Longhorns are also scheduled to face Kentucky on Saturday in Lexington, Kentucky, in one of the headline matchups of this year's Big 12/SEC Challenge. It's unlikely Smart will be available for either of those games.
Texas has not played since its Jan. 16 win over Kansas State. Its last two games, against TCU and Iowa State, were postponed because of COVID-19 issues that arose within those programs.
Smart has helped lead Texas to a turnaround season after starting the year on the hot seat. The Longhorns are 11-2 overall 5-1 in league play, good for second behind undefeated Baylor and just 1.5 games off the Bears' pace.
WATCH & READ
Highlights: No. 19 Missouri at No. 6 Tennessee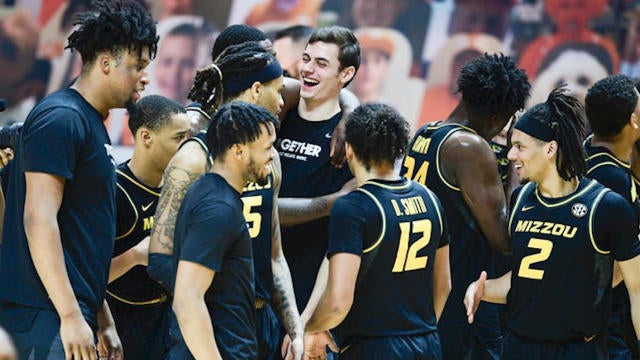 Highlights: No. 19 Missouri at No. 6 Tennessee
x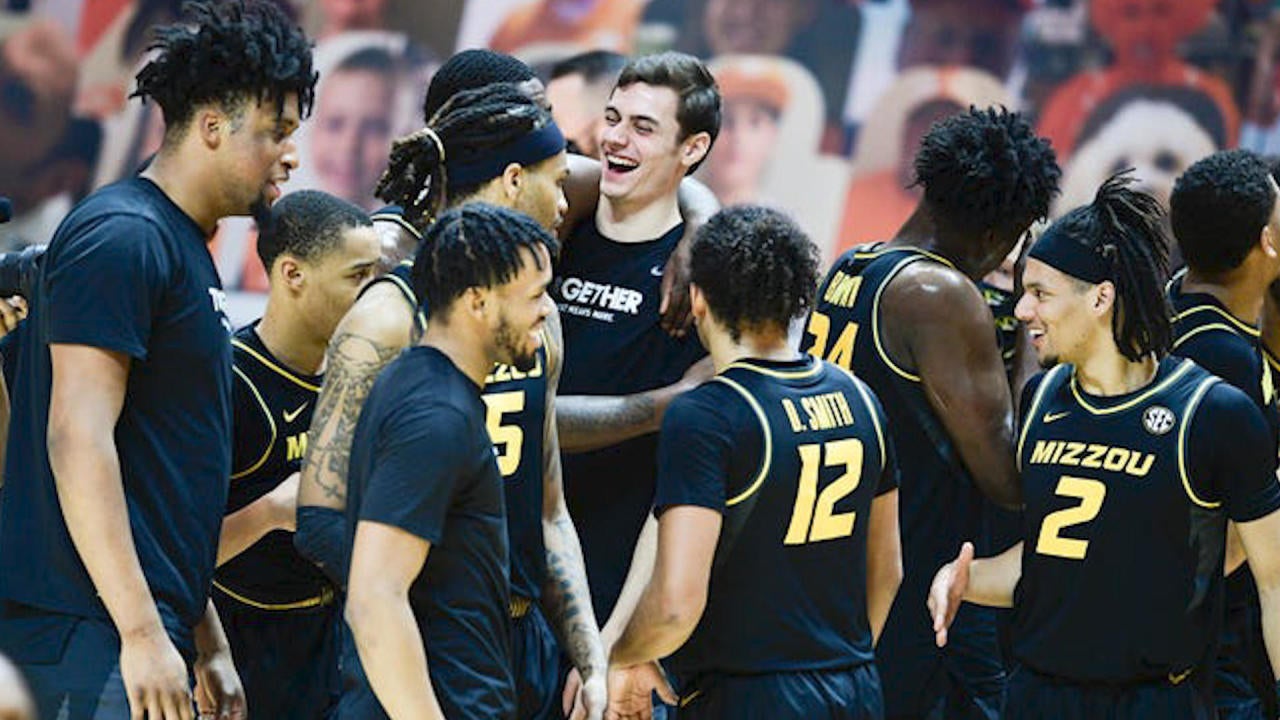 Highlights: No. 19 Missouri at No. 6 Tennessee 1:17
/
Small (320x180)
00:00 00:00
Learn More
Watch Now: Highlights: No. 19 Missouri at No. 6 Tennessee (1:17)
Virginia began the season 4-2 with no good wins and losses to San Francisco and Gonzaga. As a result, the Cavaliers fell to 23rd in the Associated Press Top 25 poll and completely out of the CBS Sports Top 25 And 1. But they've recovered nicely from that rough start and are now on a six-game winning streak that has the Cavaliers alone atop the ACC standings entering Monday's game with Syracuse.
The most recent win came Saturday.
That's when Virginia overcame an 11-point deficit in the second half and beat Georgia Tech 64-6 to improve to 10-2 overall, 6-0 in the ACC. Kihei Clark got the game-winning bucket with 1:13 left after missing the first nine shots he attempted. So even though his string of six straight double-digit scoring efforts was snapped, the 5-foot-9 guard still finished with a game-high eight assists and played a significant role in Virginia remaining one of just four power-conference teams with perfect league records.
"He's a winner," said Virginia coach Tony Bennett, whose Cavaliers are No. 10 in Monday morning's updated CBS Sports Top 25 And 1 daily college basketball rankings. "You just see what he's done in big settings."
The next big setting is Monday's game with Syracuse, which enters on a two-game winning streak highlighted by Saturday's 78-60 blowout of Virginia Tech. The Orange still aren't in the Top 25 And 1 in part because they're 9-4 overall, 3-3 in the ACC, and 0-3 in Quadrant 1 games. But they are 36th at KenPom, 40th in the NET, and just on the outside of most projected NCAA Tournament brackets. So this matchup with Virginia will provide the Orange with an opportunity to enhance their resume and get on the right side of the bubble.
Tip is scheduled for 7 p.m. ET
Itching for more college hoops analysis? Listen below and subscribe to the Eye on College Basketball podcast where we take you beyond the hardwood with insider information and instant reactions.
Eye On College Basketball Podcast
Duke and Kansas skidding, Coach K takes on a student reporter, weekend thoughts, and a happy b-day mailbag for GP (College Basketball 01/24)
We didn't have a blockbuster weekend, but there are a few scores and plot lines to dive into.
Forward 15 seconds
Back 15 seconds
00:00:00
Share
Subscribe
Cookie Policy
Description
Share Eye On College Basketball Podcast
Share this episode with your friends
Subscribe to Eye On College Basketball Podcast
Keep up to date by subscribing to this podcast
Cookie Policy
This player is hosted by Megaphone, a podcast publishing platform. By using Megaphone's player you are consenting to our use of cookies, which we use to improve user experience. Please refer to our privacy policy to learn more.
Description
We didn't have a blockbuster weekend, but there are a few scores and plot lines to dive into. The pod opens with Kansas and Duke's three-game losing streaks. How many times, ever, have these two blue bloods had three-game losing streaks at the same time? Then the guys get into Coach K's viral moment with a student reporter (16:10) and discuss why some of the reaction was overblown. The weekend whiparound starts around the 32-minute mark, and then the mailbag (42:00) is bookended with Norlander having a little rapid-fire Q&A with GP for his 48th birthday.
Monday's Top 25 And 1 rankings
Biggest Movers
Rk
Teams
Chg
Rcrd
1
Gonzaga
Gonzaga's perfect record includes double-digit victories over Iowa, Virginia and Kansas. The Zags have recorded a national-best six Quadrant 1 wins.
--
15-0
2
Baylor
Baylor's perfect record is highlighted by victories over Kansas, Texas Tech and Illinois. The Bears have won 12 of their 14 games by double-digits.
--
14-0
3
Villanova
Villanova is 2-0 with wins over Seton Hall and Providence since returning from a COVID-19 pause. The Wildcats will take an eight-game winning streak into Thursday's game at UConn.
--
10-1
4
Michigan
Michigan is 8-1 in the first two quadrants with double-digit wins over Minnesota, Wisconsin and Purdue. The Wolverines' lone loss came at Minnesota.
--
13-1
5
Texas
Texas' most impressive wins are road wins at Kansas and West Virginia. Both of the Longhorns' losses are considered Quadrant 1 defeats.
--
11-2
6
Houston
Houston is 6-1 in the first two quadrants with double-digit victories over Texas Tech and SMU. The Cougars will take a six-game winning streak into Thursday's game with Tulane.
--
13-1
7
Iowa
Iowa's five-game winning streak was snapped Thursday by Indiana. The loss dropped the Hawkeyes' record in the first two quadrants to 7-3.
--
12-3
8
W. Virginia
West Virginia played for the first time in two weeks Saturday and beat Kansas State by double-digits. All four of the Mountaineers' losses have come in the first quadrant.
--
10-4
9
Alabama
Alabama's nine-game winning streak is highlighted by double-digit wins over Florida, Arkansas, LSU and Kentucky. The Crimson Tide is alone atop the SEC standings with a two-game lead in the loss column.
--
13-3
10
Virginia
Virginia's six-game winning streak features double-digit wins over Clemson and Notre Dame. The Cavaliers are alone atop the ACC standings with a one-game lead over Florida State.
--
10-2
11
Ohio St.
Ohio State's win at Wisconsin on Saturday was its fourth Quadrant 1 victory. The Buckeyes have zero losses outside of the first quadrant.
--
12-4
12
Texas Tech
Texas Tech's resume is highlighted by a road win at Texas. Three of the Red Raiders' four losses are to teams ahead of them in the Top 25 And 1.
--
11-4
13
Missouri
Missouri's win at Tennessee on Saturday was its fifth Quadrant 1 victory. The Tigers will take a three-game winning streak into Tuesday's game at Auburn.
--
10-2
14
Wisconsin
Wisconsin's double-digit loss at home to Ohio State on Saturday dropped the Badgers to 6-3 in the Big Ten. They are 2-2 in Quadrant 1 opportunities.
--
12-4
15
Kansas
Kansas fell to 6-5 in the first two quadrants after Saturday's loss at Oklahoma. The Jayhawks will take a three-game losing streak into Thursday's game with TCU.
--
10-5
16
Saint Louis
Saint Louis' resume features wins over NC State and LSU. The Billikens have not played since Dec. 23 because of COVID-19 issues inside the program.
--
7-1
17
Florida St.
Florida State is 2-1 in Quadrant 1 opportunities with wins over Louisville and Florida. The Seminoles will take a four-game winning streak into Wednesday's game with Miami.
--
9-2
18
Illinois
Illinois owns four Quadrant 1 victories -- among them wins over Minnesota and Purdue. Four of the Illini's five losses qualify as Quadrant 1 defeats.
--
10-5
19
Creighton
Creighton's win over UConn on Saturday snapped a two-game losing streak. The Bluejays' resume also includes victories over Xavier and Seton Hall.
--
11-4
20
Tennessee
Tennessee is 2-3 in Quadrant 1 opportunities after Saturday's loss to Missouri. The Vols will take a two-game losing streak into Tuesday's game with Mississippi State.
--
10-3
21
Minnesota
Tennessee is 2-3 in Quadrant 1 opportunities after Saturday's loss to Missouri. The Vols will take a two-game losing streak into Tuesday's game with Mississippi State.
--
11-5
22
UCLA
UCLA's seven-game winning streak was snapped Saturday at Stanford. The Bruins remain atop the Pac-12 standings with an 8-1 league record.
--
12-3
23
Louisville
Louisville snapped a two-game losing streak Saturday with a victory over Duke. The Cardinals also own wins over Seton Hall, Virginia Tech and Kentucky.
--
10-3
24
Oklahoma
Oklahoma's body of work is highlighted by wins over West Virginia and Kansas. The Sooners will take a three-game winning streak into Tuesday's game at Texas.
--
9-4
25
Boise St.
Boise State has won 13 consecutive games since a season-opening loss to Houston. Eleven of those wins have come by double-digits.
--
13-1
26
Purdue
Purdue's body of work includes three Quadrant 1 wins - among them victories over Ohio State and Indiana. Five of the Boilermakers' six losses are inside the first quadrant.
--
11-6
Article Categories:
Texas