Click here to view original web page at www.wfaa.com
DALLAS — This story will be continuously updated. A line of thunderstorms moving west to east across North Texas is likely this evening into the overnight hours, scheduled to hit the D-FW area between 9 p.m. to 12 a.m. The primary severe threat is damaging winds. But pockets of […]
Click here to view original web page at www.wfaa.com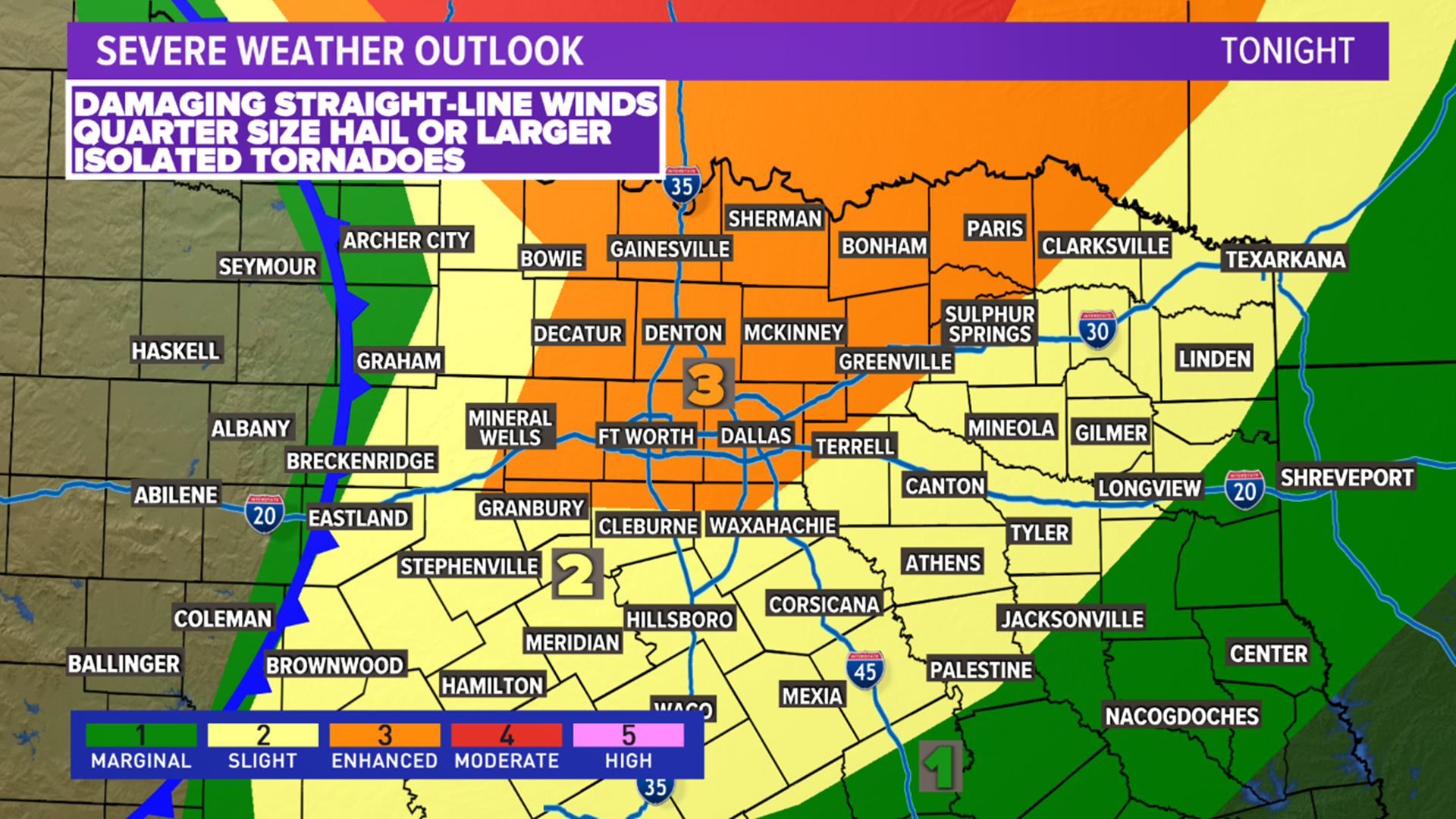 DALLAS — This story will be continuously updated.
A line of thunderstorms moving west to east across North Texas is likely this evening into the overnight hours, scheduled to hit the D-FW area between 9 p.m. to 12 a.m. The primary severe threat is damaging winds. But pockets of large hail and embedded tornado spin-ups will be possible as well.
Follow along here for any storm watches, warnings, event cancellations, power outages or flight information that might be impacted by tonight's storm.
6:18 p.m.
The National Weather Service has issued a tornado watch for all of North Texas until at least 2 a.m.
A Tornado Watch has been issued for all of North Texas until 2am. Timing for storms still around 9pm to midnight for DFW. Spin-ups within the line of storms are possible. Stay weather aware! #wfaaweather pic.twitter.com/klti16McdZ

— Pete Delkus (@wfaaweather) October 10, 2021
The bad weather didn't dampen the mood for many people's Sunday, but it did have Big Tex clocking out a bit early.
The State Fair of Texas announced Sunday that the fair will close early due to weather and asked everyone to leave the park by 8:30 p.m. Normally, the fair closes at 9 p.m. on Sundays. The Kroger Starlight Parade will still happen on schedule at 7:15 p.m.
Attention Fairgoers: Due to forecasted severe weather, the State Fair of Texas will close early tonight. Please depart the park by 8:30 p.m. Thank you for understanding and travel safely. pic.twitter.com/waxE3n46y3

— State Fair of Texas (@StateFairOfTX) October 10, 2021
If you go, or if you're at the fair now, here are the times you need to be aware of:
Parking entry will close at 7:00 p.m.
Admissions will end at 7:30 p.m.
Coupon sales for food, beverages, and rides will end at 8:00 p.m.
All shopping and exhibits will close at 8:00 p.m.
Indoor concessions at the Tower Building will close at 8:00 p.m.
The rest of the State Fair of Texas will close at 8:30 p.m.
Download our free WFAA app to stay up-to-date on all news stories in the Dallas-Fort Worth area, including weather.
Flight delays/cancellations
Dallas-Fort Worth International:
General arrival and departure time delays are at 15 minutes or less.
Dallas Love Field:
General arrival time delays are at 15 minutes or less.
Photos/videos from around the metroplex
We want to remind our viewers to stay safe and take shelter if you need to. Your safety is always the No. 1 priority. But if you feel so inclined, send us what the weather looks like in your neck of the woods through Twitter @wfaa using #wfaaweather, or by sending us photos through the Near Me feature on the WFAA app.
Article Categories:
Texas