Click here to view original web page at www.nbcdfw.com
Heavy showers and storms will affect North Texas through the midday hours. Frequent lightning, gusty winds, and very heavy rain are to be expected. The risk of small hail cannot be ruled out. The tornado threat is low. At 10:17 a.m., the National Weather Service said heavy rain was […]
Click here to view original web page at www.nbcdfw.com
Heavy showers and storms will affect North Texas through the midday hours. Frequent lightning, gusty winds, and very heavy rain are to be expected. The risk of small hail cannot be ruled out. The tornado threat is low.
At 10:17 a.m., the National Weather Service said heavy rain was falling in most areas at a rate of about 1 inch per hour though there were some spots receiving heavier rain at a rate of 1.5 inches to 2 inches per hour.
A large swath of North Texas is under a Flash Flood Watch through Monday evening. The National Weather Service issued the watch through 7 p.m. Monday after parts of Dallas-Fort Worth -- in particular Collin County -- received more than 6 inches of rain Saturday.
The NWS issued an Areal Flood Advisory for Tarrant and Dallas counties until 1:30 p.m. due to minor flooding. The NWS earlier issued an Areal Flood Advisory for Collin and Denton counties until 12:45 p.m. Areal Flood Advisories have also been issued for Bosque, Erath, Hamilton, Hill, Johnson, and Somervell counties until 1:45 p.m.
The NWS describes areal flooding as "flooding that develops more gradually, usually from prolonged and persistent moderate to heavy rainfall. This results in a gradual ponding or buildup of water in low-lying, flood-prone areas, as well as small creeks and streams. The flooding normally occurs more than six hours after the rainfall begins, and may cover a large area. However, even though this type of flooding develops more slowly than flash flooding, it can still be a threat to life and property." People are urged to avoid flood-prone areas and flooded roadways.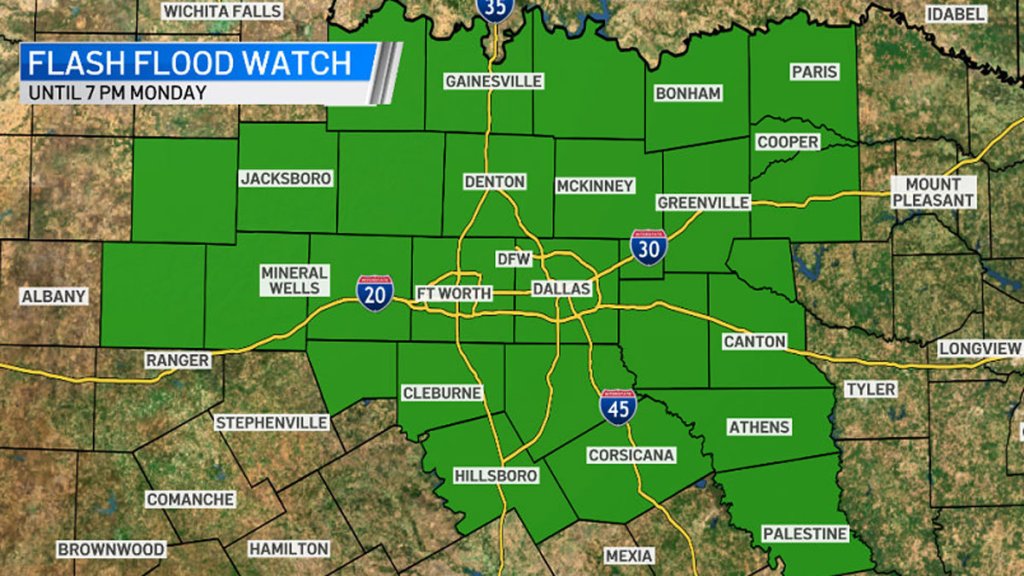 Since the ground is already so saturated it will not take much for runoff to occur. Flooding can be expected in low-lying areas, streams, and creeks and on some roadways. The National Weather Service as many as 3 inches of rain possible in some places.
Remember, never drive through high water. Turn Around, Don't Drown.
The heaviest rain will move east through the afternoon, but the chance for rain and an isolated thunderstorm will linger in the Dallas-Fort Worth area all day.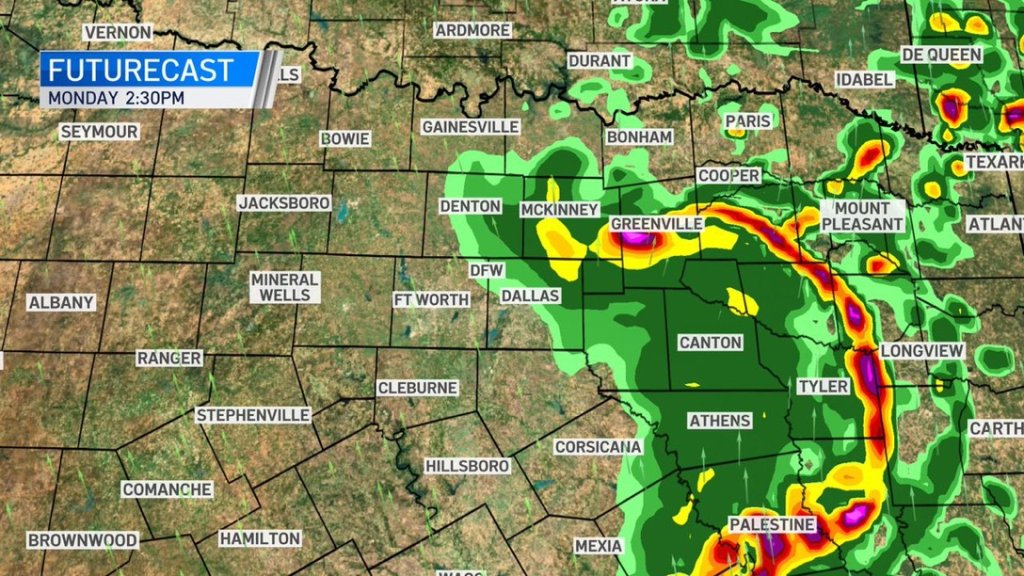 A few showers and storms will be possible Monday night and Thursday, but the chance is much lower. The rain chances will finally end by Wednesday and temperatures are expected to climb into the low 90s.
Continuing Weather Coverage
Stay up to date with the latest weather forecast from NBC 5's team of Weather Experts by clicking here or by watching the video below.
Article Categories:
Texas