Click here to view original web page at labusinessjournal.com
Green Dot has already ended its lease for its 160,000-square-foot building in Pasadena. Photo by Ringo Chiu . The recent news that Green Dot Corp. plans to move its headquarters to Austin, Texas, before the end of the year probably shouldn't have been that surprising. After all, several Southern […]
Click here to view original web page at labusinessjournal.com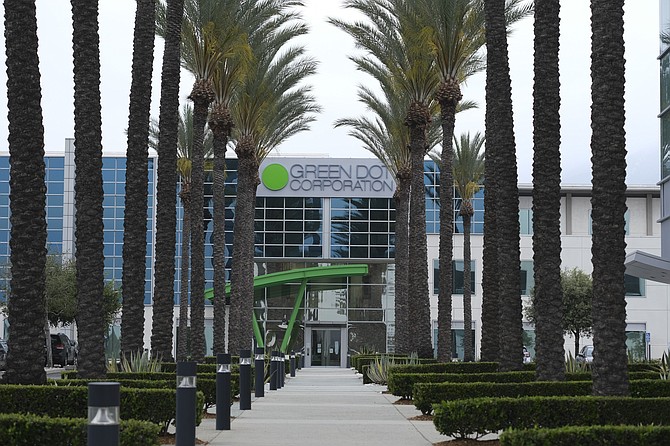 Photo by Ringo Chiu.
The recent news that Green Dot Corp. plans to move its headquarters to Austin, Texas, before the end of the year probably shouldn't have been that surprising.
After all, several Southern California companies have either moved to the Texas capital or have talked about moving there lately.
In the case of Pasadena-based Green Dot, though, the relocation announcement on May 8 likely has less to do with business or economic conditions in Los Angeles and more to do with the new person calling the shots at the fintech company.
Dan Henry, who was named chief executive and president at Green Dot last year just as the Covid-19 pandemic took hold, is a longtime Austin resident who remained in the city even after taking the Green Dot job, according to the company's spokesperson.
His LinkedIn profile outlines some of his investments in Texas, including Moment Motor Co., a tiny Austin company that converts vintage head-turning automobiles into modern electric cars with Tesla batteries and powerful engines.
Henry also ran Austin-based fintech Netspend Corp., a Green Dot rival, from 2008 to 2014. He took the company public in 2010 before selling it in July 2013 to Total Systems Services, or TSYS, in a deal valued at $1.4 billion.
In addition, Henry has been engaged in the Texas venture capital community, building up fintech models like Gig Wage Inc., a Dallas-based fintech that aims to simplify payroll for the gig economy.
"He's lived here a number of years," said Julie VerHage, publisher of Fintech Today, a trade publication in Austin that tracks the industry.
Fintechs and insurtechs are building scale along Austin's Sand Hill Road, according to VerHage. The area, she said, has attracted a critical mass of entrepreneurs and venture capital firms.
A Green Dot spokeswoman said the company, which was founded in Pasadena 22 years ago, would not completely leave California.
Key employees, she said, would remain in Southern California as the company builds out hubs around the country — including the new headquarters in Austin, as well as WeWork-style offices in Tampa, Fla.; Cincinnati; and Pasadena.
"It's more of a technical change than anything else," the spokeswoman said.

Shaking things up

The move to Austin isn't the only way Henry is shaking up Green Dot's operations — and Wall Street is taking note.
Green Dot's main line of business is federally insured prepaid debit cards that can be used to make payments and purchases and withdraw cash. Green Dot cards are sold at retailers such as CVS, Rite-Aid and Walmart.
But solely making transactions isn't enough to build a business. The company has reported a number of initiatives to rebuild its footing in the market.
One example of an effort to generate more revenue came on May 14 when Green Dot agreed to pay $165 million for the tax refund processing business unit of Louisville-based Republic Bancorp Inc., expanding its presence in the tax segment field.
"We believe this acquisition makes Green Dot one of the clear leaders in the space as it is one of the largest processors of tax refund disbursements in the United States," said Robert Napoli, a research analyst with William Blair & Co. in Chicago, who follows the company.
The two companies said they expect to close the deal before the end of the year.
Green Dot entered the tax segment when it acquired the Santa Barbara Tax Products Group in 2014.
Another area of potential growth for Green Dot came in January when it launched its mobile bank GO2bank app, designed to help individuals who are living paycheck to paycheck.
A half-dozen Wall Street analysts wrote in research notes that they are intrigued by GO2bank but want more details on how much revenue the product might generate before they can make financial forecasts.
Go2bank, according to Green Dot, addresses the needs of consumers with overdraft protection, a rewards program, high-interest savings and credit building.
Truist Securities analyst Andrew Jeffrey, in San Francisco, wrote in a research note to investors that near-term upside in Green Dot stock "could be capped by lack of economic detail."

More moves ahead?

Henry's arrival at Green Dot in March 2020 gave the company a chance at a reset after founder and Chief Executive Steve Streit and Chief Financial Officer Mark Shifke retired as the company's stock lost more than two-thirds of its value.
And there could be more moves in store.
TSYS, the company that acquired Henry's previous fintech, Netspend, was itself acquired for $21.5 billion by Atlanta-based payments technology company Global Payments Inc. in September 2019, one of several blockbuster consolidation deals among U.S. payment processors.
Last fall, rumors began circulating in the financial press that Global Payments was putting its Netspend unit in Austin up for sale.
In December, the Wall Street Journal reported that a $70 billion deal to combine Global Payments and Jacksonville, Fla.-based payments technology rival Fidelity National Information Services Inc. had collapsed.
"You can't move a company's headquarters just because of (Henry). There's definitely got to be other reasons involved in it, but they would have more color around that," VerHage said.
Needham & Co. analyst Mayank Tandon last fall added to speculation that a deal could be in the works.
"Despite the relatively large size of Netspend, we believe that (Green Dot) is well positioned to be able to successfully acquire, integrate and manage Netspend's prepaid card programs," Tandon wrote. "The combination of (Green Dot) and Netspend would bring together the two largest prepaid card program managers in the U.S. market."
Green Dot, Global Payments and Fidelity National all declined to comment on merger speculation.

Laying the groundwork

The groundwork for Green Dot's move from Pasadena was likely being laid earlier this year.\
On a Feb. 22 conference call with Wall Street analysts to discuss fourth-quarter 2020 financial results, Green Dot's interim chief financial officer, Jess Unruh, said the company's work-from-anywhere corporate policy prompted a decision to close most of its leased office space in the United States this year.
Green Dot recorded an impairment charge in 2020 of $22 million in connection with the pandemic's economic impact on leases and office equipment rentals. The company is required to continue making contractual payments until its operating leases are formerly terminated or expired, Unruh said.
Green Dot has already ended its lease for its 160,000-square-foot building in Pasadena.
Henry seems to have embraced the shift to remote work forced by the coronavirus pandemic.
"I want the best and brightest people we can find to join our team to help us be successful, and you can live anywhere you want," Henry said earlier this month in an interview with CNBC. "I'm not Jamie Dimon. I'm not going to force you to take the train three hours a day."
Henry was referring to comments made earlier in May by JPMorgan Chase & Co. Chief Executive Dimon, who is calling his U.S. employees back to the office.
"What Covid did was force a mind shift. We see how productive we are working from anywhere and how much our employees love it," Henry said. "It's more important to be productive than be busy. If you force people to come to an office every day, then everybody's going to try to be busy."
For reprint and licensing requests for this article, CLICK HERE.
Stories You May Also Be Interested In
Article Categories:
Texas